Our location
5400 Balboa Blvd., Suite 212
Encino, CA 91436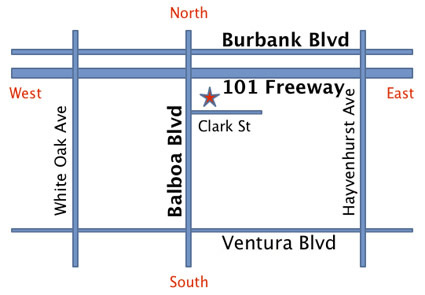 We are located on the East side of Balboa Blvd less than a block South of the 101 Freeway off-ramps and several blocks north of Ventura Blvd. The cross-street is Clark.
The large medical office building has a dark-mirrored exterior and a pay parking lot. There may be some nearby street parking but please check street signs. Go through the main building entrance, take the elevators to the 2nd floor, and our office at Suite 212 is readily visible as you exit the elevator.
Enter your starting address:
Warm, friendly, encouraging and expert healthcare.
Call 818.789.0203 for an appointment.